Sokołów has something new for the youngest ones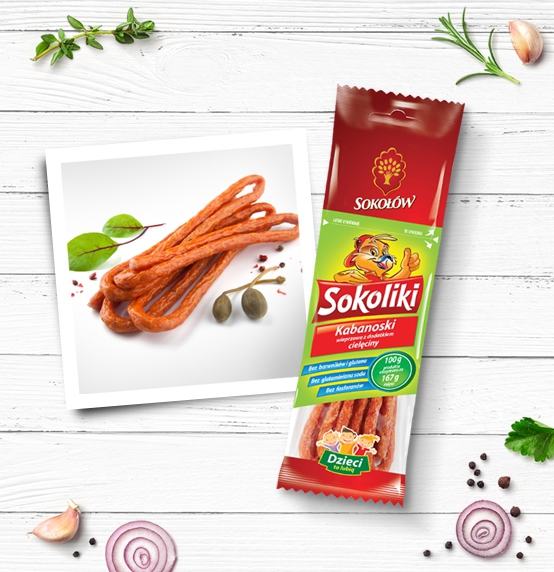 At the beginning of October, Sokołów introduces two new products to the market: Sokoliki pork kabanos sausages with veal and Sokoliki pork kabanos sausages with turkey. The products are an addition to the Sokoliki band which is known to parents from, among others, the Sokoliki chicken wieners.
Research-supported choice
The Sokoliki kabanos sausages have been created as a response to consumer needs. Clients have often asked us about products dedicated to the youngest ones.
- Consumer choices and their satisfaction determine the direction of our company's development. We carefully observe the lifestyle of Poles and actively respond to emerging needs. Our mission is to meet those needs but also create new trends and consumer behaviours – says Krzysztof Kawecki, Sokołów Group S.A. R&D Centre Director. – The inspiration to create this new offer was for us the opinion of mothers, who confirmed their trust in the Sokoliki brand in consumer research but also drew our attention to the fact that safety is their most important and first association with the Sokoliki brand.
Precious protein
Sokoliki kabanons sausages are produced from top-quality meat. They are gluten-free, contain no colourings and with the modern and safe technology, we were able to eliminate additives, such as phosphates or monosodium glutamate. The products are characterised by high pork content, which is an important source of protein, so vital for the development of children. On the other hand, delicate spices make the Sokoliki kabanos sausages taste good even to the fussiest eaters.
- Protein is one of the key macro ingredients in children's diet essential to proper development – says Agnieszka Piskala, dietician, nutrition expert. – During the period of intensive growth, the body's demand is practically twice as big (per kg of body weight per day) as in the case of adults. Although there may be many sources of protein in a child's diet, it turns out that animal proteins are the most valuable. They contain all the essential amino acids that we should provide to children in their daily menu. An interesting and tasty form of meat products, containing only the most valuable ingredients and free from all ingredients, which parents do not want to see in products recommended for the youngest, is an ideal supplement to the diet of every healthy growing child -- adds dietician.
Universal products
The Sokoliki kabanos sausages are products that will work in many situations. They can be served as an addition to scrambled eggs or as a snack during a car trip. It's also a handy product to serve on a beach, during a walk or while biking. Thanks to the handy packaging and appropriate weight (75 g), the Sokoliki kabanos sausages can be easily stored in a bag and backpack without worrying that something will fall out. Moreover, the packaging is easy to open, meaning that even the youngest children won't have to ask grown-ups for help.
Sokoliki pork kabanos sausages with veal and Sokoliki pork kabanos sausages with a turkey can be found in the Delikatesy Sokołów (Sokołów Delis) shops. We have plans to make the products even more widely available.