Together into future In its activities, Sokołów S.A. is guided by...
...conviction that the quality in the meat industry can only be achieved through combination of modernity and security provided by highly qualified specialists. With the "Together into the Future" programme, Sokołów S.A. is building the future of healthy food. Thanks to the cooperation with Polish farmers and the capability to control the quality at each stage of production, we can be sure that we are producing only the best quality meat products. Sokołów is one of the first Polish meat processing companies which has implemented a system of direct cooperation with farmers. The pioneer pig breeding programme is in operation since 2000, while the cattle fattening programme was implemented in March 2007. Today, Sokołów S.A. cooperates with almost 2000 Polish breeders.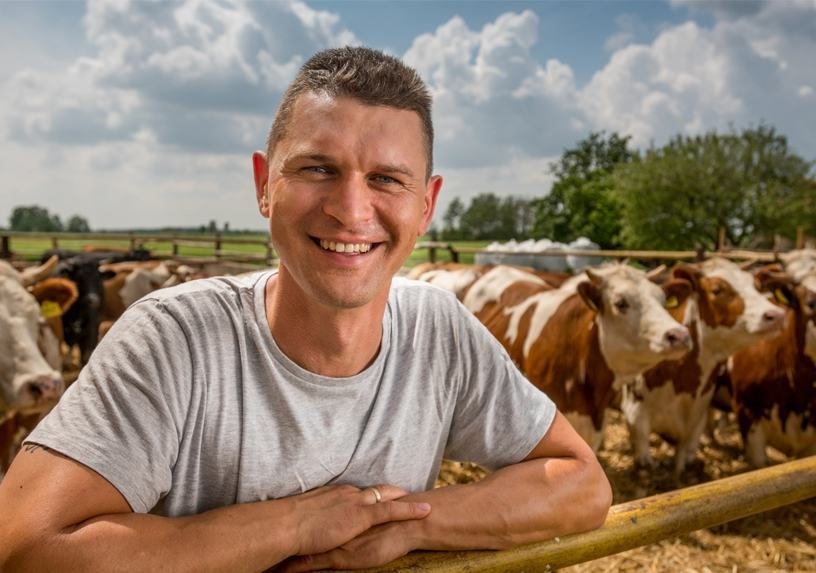 CATTLE FATTENING PROGRAMME
In order to improve the quality of beef and to develop the direct cooperation with manufacturers, Sokołów realises the programme of fattening cattle for slaughter.
Program adresowany jest do:
Farmers with cattle fattening capabilities;
Farmers, who gave up milk production;
Milk producers who are ready to produce cattle livestock simultaneously;
Sokołów S.A. provides programme participants with attractive financing of calves' purchases, advices and help in securing calves for fattening.
PIG PRODUCTION PROGRAMME
The main goal of the programme is to create the best conditions for breeding and producing pigs, by:
Providing the highest quality gilts and boars for breeding;
Offering comprehensive consulting on feeding and improving environmental conditions;
Providing options of modernisation and equipping production facilities with modern equipment;
Offering attractive bank loans and financing the purchases of gilts and boars for breeding, piglets and feed;
Providing consulting and know-how through the Raw Material Supply Office and Agro-Sokołów employees.
SOKOŁÓW PODLASKI
ul. Aleja 550-lecia 1,
08-300 Sokołów Podlaski
Headquarters phone (25) 640 82 00