Sokoliki now without preservatives – a new composition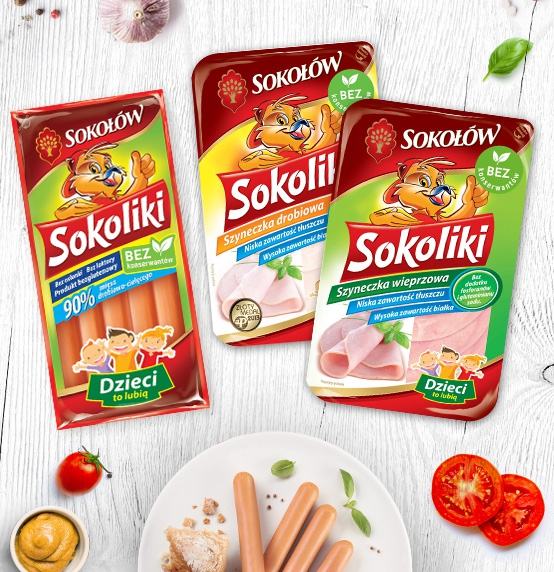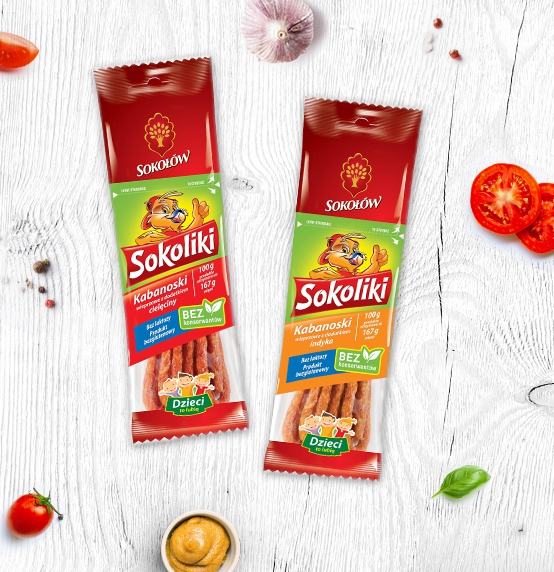 Products from the Sokoliki kids' line are now formulated without any additives or preservatives. All products in the series have the so called "clean label". They include sausages, chicken ham, pork ham, sausages, pork kabanoski with turkey and pork kabanoski with veal. Sokoliki are invariably distinguished by high meat contents and delicate flavour and are well-liked by younger consumers. They serve as a perfect source of valuable protein in the daily diet.
The demanding youngest consumers
What children eat is key for the proper development of the young body. Therefore, products developed with them in mind should meet the highest standards of quality and safety. In the case of meat products, the major criteria are high meatiness, a proven raw material, delicate flavour.
"In the era of changing consumer trends, more and more people are looking for products with natural composition, free of preservatives and additives", says Bogusław Miszczuk, Sokołów S.A. President of the Management Board.  "Sokoliki are very popular with buyers. By changing their composition and removing preservatives and additives, we meet our customers' expectations. I am convinced that with the new composition, the Sokoliki will satisfy even the most demanding consumers."
A perfect every-day meat snack
Sokoliki are high-quality meat products, manufactured from a proven raw material. They are a good source of complete proteins, which are very important components of the daily diet of children. Delicate spices were chosen to match the taste preferences of the youngest consumers.  Sokoliki are especially good as a nutritious meal during the day – for breakfast or dinner, or as a snack – at school or on a trip. Wieners and sausages taste great served warm – cooked, fried or baked. Ham is the perfect addition to sandwiches eaten at home and for school lunch. Kabanoski are a convenient snack, which you can grab any time during the day.
The new-formula Sokoliki are available since November. The process of introducing new products shall take place gradually as the previous batch of products and packagings is depleted.