Closer
to region, closer to people
The highest quality...
The highest quality of products, promotion of a healthy lifestyle and growth of our employees are our targets. We are aware that without the human factor any efforts towards success would not be effective and well implemented. We are constantly improving the competences of our employees and are helping them build their careers. We know that without the support of the local communities, our ideas would remain only declarations, so we try to always be close to the events happening in the regions where we operate. We are providing patronage to various initiatives promoting healthy lifestyles and together with young sportsmen encourage people to be active.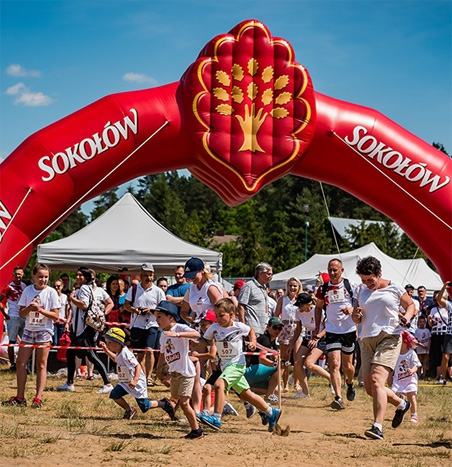 Good start with Sokołów
We cooperate widely with educational institutions and students and university graduates. We can see the potential hiding in the people who have just started planning their careers and are supporting their success. Our activities are focused on the personal development of our employees and the search for future leaders. In 2018, we started a prestigious international Graduate Programme. Its aim is to educate and develop university graduates and prepare them for their managerial functions in our company. We see the need for a closer cooperation with educational institutions, which in the future may help us to prepare professional staff, especially if they are meat industry professionals.
"Working with the headmaster of the Władysław Stanisław Reymont Agricultural Education Centre School Complex in Sokołów Podlaski, we have prepared a programme, that will ensure that the graduates not only gain theoretical knowledge but above all acquire practical skills through apprenticeships in the most technologically advanced meat processing plant in Europe — our Sokołów Podlaski facility. The benefits are therefore mutual — at the end of their studies, students have an open career path and practical skills and us, as a company, are gaining true professionals who will be writing the history of the Sokołów Group together with us in the near future" says Bogusław Miszczuk, Sokołów S.A. President of the Management Board
We don't rest on our laurels
Sokołów employees have many opportunities to improve their professional qualifications. Our aim is to make sure that their knowledge and skills are not just adequate to their position but also that they allow them promotion in the structures of the company. We run several internal and external training courses, and finance, or co-finance, studies. We also offer free English language courses. Projects realised in interdisciplinary teams allow our employees to develop expertise that goes beyond the professional responsibilities. The combination of knowledge and experience of employees from various organizational units of the company is an excellent opportunity to broaden the horizons and to look at a given problem from different perspectives.
Together – not only at work
We are trying to make sure that Sokołów is a place of integration – not only in terms of work, but in a broader sense. For 18 years now, every year we are organizing the Sokołów Cup event, which brings together company employees and their families. This is an excellent opportunity to have fun, experience healthy sportsmanship and enjoy some cultural entertainment. Together we celebrate all kinds of anniversaries and holidays, and thanks to a structured package of employee benefits, we are supporting our staff in developing their passions and helping them when they encounter all sorts of difficulties. 

Fitness for health
The proper eating habits and physical activity should be something that we care for from an early age, which is why we encourage children and youth to participate in all kinds of local sports events. One of them, supported by us for many years, is the Sokolik football tournament, which brought up such athletes as Artur Boruc, Cezary Kucharski or Jacek Kiełb. Every year, as a patron, we support the organization of a summer and winter edition of the tournament. We sponsor prizes for all finalists and the best female and male footballers and provide tasty, regenerative meals.
In addition, we support our local women's MPKK Sokołów S.A. Sokołów Podlaski basketball team, which is successful at home and abroad. We sponsor the Kolping Frac Jarosław team – Champions of Poland and the winners of the Polish Cup in table tennis.