New vegan slices from the Z Gruntu Dobre (Naturally Good) range of products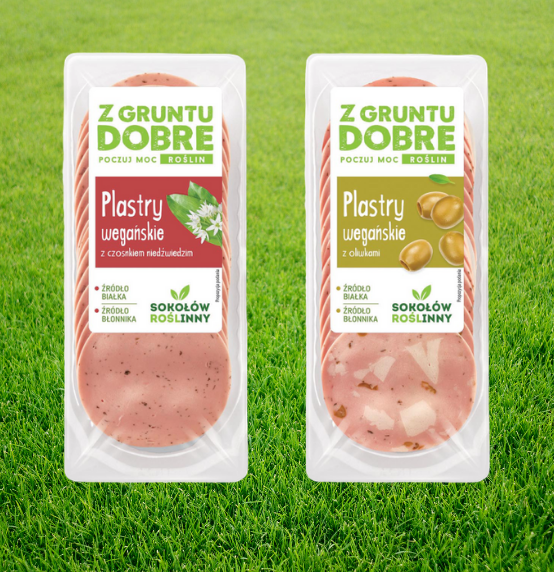 The Z Gruntu Dobre vegetable products line now includes two new items. Those are vegan slices available with two different additions - wild garlic and olives. Tasty and easy to use, they make an excellent addition to sandwiches. The slices are an ideal proposal for flexitarians and all those who want to diversify their daily diet. They can be eaten also by vegetarians and vegans.
Flexitarianism is now one of the most popular dietary trends. It means conscious limiting of the amount of eaten meat, and including more vegetable products in one's diet. Those who choose this diet often look for new proposals that enable easy and convenient preparation of tasty, varied meals. Here the products from the Z Gruntu Dobre line offered by Sokołów are an excellent choice. Those are vegetable delicacies that can be served as snacks, or can become ingredients of various dishes.
The Z Gruntu Dobre product series has now been extended to include vegan slices. They are offered in two versions: with wild garlic, which is appreciated for its fresh, subtle taste, and with olives, which are the flag ingredient of Mediterranean cuisine. The Z Gruntu Dobre vegan slices are available in convenient and handy packages. The optimum amount of product in a package (50 g) makes sure that all the fresh product will be used, with no risk of wasting food.
The Z Gruntu Dobre vegan slices are a source of proteins and fiber. They can be a tasty addition to your sandwiches. Slices with wild garlic will ideally compose with fresh vegetables available in the spring and summer seasons. Slices with olives will taste excellent with, amongst others, dried tomatoes and rocket.
The Z Gruntu Dobre range of products includes also vegetable pâtés, pastes and hummuses. Sokołów has declared that the line will be extended to include further products. For more information on the products visit a dedicated web page: www.zgruntudobre.com.